WHO NEEDS A 
REAL ESTATE LICENSE?
Getting a real estate license can prove to be one of the most valuable investments you can make in yourself and open the door to an exciting new career! Let us show you how it works and help open the door for you to the many opportunities a real estate license can bring. If you know you are ready to enroll in real estate school you can click here to register now.
Just look around you, real estate transactions are happening all the time! Businesses are opening new locations by signing commercial leases, first-time home buyers are purchasing their very first home, apartment complexes are opening with property managers greeting their happy new tenants as they move in – the world of real estate is a huge industry with so many careers to choose from.
Due to the size and scope of the real estate industry many different real estate careers are available such as appraisers, home inspectors, title attorneys, insurance agents – and of course real estate agents and brokers.
Typical examples of career opportunities in real estate that would likely require a license include:
Real Estate Brokerage
Sales of Real Property
Property Management
Commercial Leasing
Commercial Management
Investment Consulting
Referrals off of Real Estate Transactions
Appraisal*
Mortgage Brokerage*
Home Inspection*
Insurance*
*Note: Some specialties may require a specific license to practice such as appraisal, mortgage, and home inspection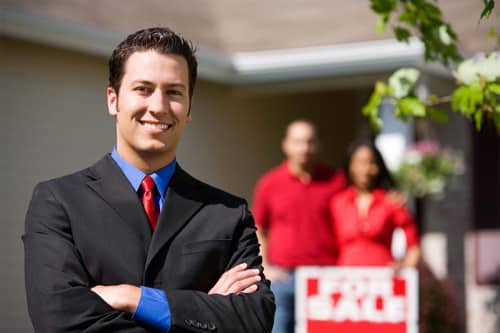 In most states, such as Louisiana and Mississippi, you will need a real estate license in order to work as a professional real estate agent. Since as a real estate agent you will be representing another party in most cases, there are professional duties and responsibilities you will need to learn in order to practice real estate the right way.
Real Estate School
Just like getting a driver's license you will need a real estate license before you can really "hit the road" and get started. In order to obtain a license, you will need to complete a real estate course at an accredited real estate school and then pass a state real estate license exam by your states real estate commission .  With Donaldson Education, you can do that online or live, in person training.
In addition, there are usually license applications and other requirements that need to be completed with your state's licensing agency.  After getting your license, some states require that you take a post licensing course and all states require continuing education or CE.
HOW TO GET A REAL ESTATE LICENSE
Your first step is usually to enroll in a real estate school and complete your real estate license requirements. Once you graduate real estate school, you will need apply for a real estate license.
Once your license application is accepted, the next step in the process is to register for your state's license exam. Passing your real estate license exam is key, which is why Donaldson Educational Services designs all of our courses so that you can pass the test.
Finally, many states will require that you find a real estate brokerage to sponsor your license so that you can begin working in the real estate industry! The most successful real estate agents use real estate coaches to learn the techniques and disciplines necessary above what the state requires for a license.
Remember, each state has its own licensing requirements so make sure to check our site for the specifics in your home state. For pre-license requirements in Louisiana and Mississippi click below:
HOW DONALDSON REAL ESTATE SCHOOL CAN HELP
Our goal at Donaldson Real Estate School is to make beginning the real estate license process easy and enjoyable. Our team of experts has been training real estate license hopefuls just like you for over 40 years, this is our company's mission and our passion.
Contact one of our licensing specialists today and find out exactly what you need to do in order to get started. The process is easy, and we will walk you through it every step of the way.
If you know you are ready to go, and want to reserve your spot in an upcoming real estate class OR register for an online real estate course click the button below and welcome to Donaldson Real Estate School!
Real Estate Pre-License Online Courses
Below is a list of our online courses. These classes are self-paced with NO instructor.
Real Estate 90 Hour Salesperson Course
30 Day Access
---
Real Estate 90 Hour Salesperson Course
90 Day Access
---
Real Estate 90 Hour Salesperson Course
180 Day Access
---
| Course | |
| --- | --- |
| Real Estate 90 Hour Salesperson Course – 30 Day Access | |
| Real Estate 90 Hour Salesperson Course – 90 Day Access | |
| Real Estate 90 Hour Salesperson Course – 180 Day Access | |
Real Estate Pre-License Live Courses
Below is a list of the upcoming live classes being taught at one of our locations or virtually on your computer with a live instructor.
Real Estate 90-Hour Salesperson Course
October 2nd – METAIRIE
2 weeks, Monday – Friday (9am-4pm)
DAY CLASS
---
Real Estate 150-Hour Broker Course
October 2nd – METAIRIE
2 weeks, Monday – Friday (9am-4pm)
DAY CLASS
---
Real Estate 90-Hour Salesperson Course
October 17th – METAIRIE
6 weeks, Tuesdays & Thursdays (6pm-9pm)
NIGHT CLASS
---
Real Estate 150-Hour Broker Course
October 17th – METAIRIE
6 weeks, Tuesdays & Thursdays (6pm-9pm)
NIGHT CLASS
---
Real Estate 90-Hour Salesperson Course
November 6th – METAIRIE
2 weeks, Monday – Friday (9am-4pm)
DAY CLASS
---
Real Estate 150-Hour Broker Course
November 6th – METAIRIE
2 weeks, Monday – Friday (9am-4pm)
DAY CLASS
---
Real Estate 90-Hour Salesperson Course
November 14th – METAIRIE
6 weeks, Tuesdays & Thursdays (6pm-9pm)
NIGHT CLASS
---
Real Estate 150-Hour Broker Course
November 14th – METAIRIE
6 weeks, Tuesdays & Thursdays (6pm-9pm)
NIGHT CLASS
---
Real Estate – MATH LAB
November 13th – METAIRIE
1 day, Monday (9am-4pm)
DAY CLASS
---
Real Estate License Prep Course
December 2nd & 3rd – METAIRIE
2 days, Saturday & Sunday (8:30am-5pm)
WEEKEND CLASS
---
Real Estate 90-Hour Salesperson Course
December 12th – METAIRIE
6 weeks, Tuesdays & Thursdays (6pm-9pm)
NIGHT CLASS
---
Real Estate 150-Hour Broker Course
December 12th – METAIRIE
6 weeks, Tuesdays & Thursdays (6pm-9pm)
NIGHT CLASS
---
Real Estate 90-Hour Salesperson Course
January 8th – METAIRIE
2 weeks, Monday – Friday (9am-4pm)
DAY CLASS
---
Real Estate 150-Hour Broker Course
January 8th – METAIRIE
2 weeks, Monday – Friday (9am-4pm)
DAY CLASS
---
Real Estate – MATH LAB
January 15th – METAIRIE
1 day, Monday (9am-4pm)
DAY CLASS
---
Real Estate 90-Hour Salesperson Course
January 16th – METAIRIE
6 weeks, Tuesdays & Thursdays (6pm-9pm)
NIGHT CLASS
---
Real Estate 150-Hour Broker Course
January 16th – METAIRIE
6 weeks, Tuesdays & Thursdays (6pm-9pm)
NIGHT CLASS
---
Baton Rouge
Class Schedule
Real Estate 90-Hour Salesperson Course
October 16th – BATON ROUGE
6 weeks, Mondays & Thursdays (6pm-9pm)
NIGHT CLASS
---
Real Estate 150-Hour Broker Course
October 16th – BATON ROUGE
6 weeks, Mondays & Thursdays (6pm-9pm)
NIGHT CLASS
---
Real Estate 90-Hour Salesperson Course
November 13th – BATON ROUGE
6 weeks, Mondays & Thursdays (6pm-9pm)
NIGHT CLASS
---
Real Estate 150-Hour Broker Course
November 13th – BATON ROUGE
6 weeks, Mondays & Thursdays (6pm-9pm)
NIGHT CLASS
---
Real Estate License Prep Course
November 25th & 26th – BATON ROUGE
2 days, Saturday & Sunday (8:30am-5pm)
WEEKEND CLASS
---
Real Estate 90-Hour Salesperson Course
December 11th – BATON ROUGE
6 weeks, Mondays & Thursdays (6pm-9pm)
NIGHT CLASS
---
Real Estate 150-Hour Broker Course
December 11th – BATON ROUGE
6 weeks, Mondays & Thursdays (6pm-9pm)
NIGHT CLASS
---
Real Estate 90-Hour Salesperson Course
January 15th – BATON ROUGE
6 weeks, Mondays & Thursdays (6pm-9pm)
NIGHT CLASS
---
Real Estate 150-Hour Broker Course
January 15th – BATON ROUGE
6 weeks, Mondays & Thursdays (6pm-9pm)
NIGHT CLASS
---
Real Estate 90-Hour Salesperson Course
October 16th – VIRTUAL
6 weeks, Mondays & Thursdays (6pm-9pm)
NIGHT CLASS
---
Real Estate 150-Hour Broker Course
October 16th – VIRTUAL
6 weeks, Mondays & Thursdays (6pm-9pm)
NIGHT CLASS
---
Real Estate 90-Hour Salesperson Course
November 13th – VIRTUAL
6 weeks, Mondays & Thursdays (6pm-9pm)
NIGHT CLASS
---
Real Estate 150-Hour Broker Course
November 13th – VIRTUAL
6 weeks, Mondays & Thursdays (6pm-9pm)
NIGHT CLASS
---
Real Estate 90-Hour Salesperson Course
December 11th – VIRTUAL
6 weeks, Mondays & Thursdays (6pm-9pm)
NIGHT CLASS
---
Real Estate 150-Hour Broker Course
December 11th – VIRTUAL
6 weeks, Mondays & Thursdays (6pm-9pm)
NIGHT CLASS
---
Real Estate 90-Hour Salesperson Course
January 15th – VIRTUAL
6 weeks, Mondays & Thursdays (6pm-9pm)
NIGHT CLASS
---
Real Estate 150-Hour Broker Course
January 15th – VIRTUAL
6 weeks, Mondays & Thursdays (6pm-9pm)
NIGHT CLASS
---